Profile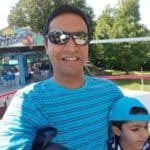 Srinath Kasturirangan
Curriculum Vitae
Education:

Bachelor's at Madras University, India; Graduate study at Arizona State University, USA

Qualifications:

PhD in Bioengineering

Work History:

7 years at Medimmune, MD, USA; 1 year at Boehringer-Ingelheim, USA

Current Job:

Principal scientist

Employer:

Boehringer Ingelheim, USA
Favourite thing to do in my job: Thinking up Frankenstein molecules!

About Me

I am a science nerd who also loves to travel!

Read more

I live in Ridgefield, CT, USA with my wife and 2 little kids (6 and 4)! So it is work at work and more work at home! That is why it is important to make work fun and boy do I have fun at work and with my kids!! I travel to scientific conferences all over the world presenting my research and also love to travel with my family on vacation. My kids keep me excited and motivated and the kind of questions they ask and their world view makes me pause and ponder and find new interpretations of things. I have watched every kids tv show you can imagine – Thomas the Tank Engine, Paw Patrol, PJ Masks, you name it and I have seen every episode and now I am trying to master Pokemon!

My Work

Genetic Engineer

Read more

I am a scientist trying to find new ways to help the body's immune system fight diseases. I have worked on a number of diseases, including Alzheimer's disease (my PhD thesis was on trying to cure Alzheimer's disease), bacterial infections and Diabetes. More recently I spend all of my time trying to cure cancer. Our body uses a battalion of antibodies to fight off infection. In my job, I try to engineer these naturally occurring antibodies to go after specific targets that are present on cancer cells. I stitch together antibodies to build "Frankenstein" molecules which can then tackle the cancer from multiple angles. It is complicated but super cool!

My Typical Day

Kids-work-kids-sleep!

Read more

I wake up in the morning, get my kids ready for school, then head to work. I spend the whole day in meetings, in the lab or in front of my computer designing antibodies. Yes – I do get bored of sitting around for too long, so I take walks to clear my mind and to stretch my legs. They have a coffee-hour at work every day where we get free coffee and we can socialize with our colleagues. This is a great opportunity to network and learn about what is going on in other groups and what cool stuff everyone else is working on. Once I get back home, the kids are ready for me to play with them and tell me about their day. We talk about our day, read books, sing songs, watch some tv, eat dinner and go to sleep! My kids love the antibody stuffed toy that I brought back for them from a conference! I think maybe someday they may want to be scientists too!

What I'd do with the prize money

I would organize a science workshop in our local library

Read more

My wife and I have been approached by our community library to organize a science workshop. While there is a LOT of interest in the community, unfortunately there is no budget set aside for such an event. We have tried to do it with the science toys and contraptions we have at home, but using this money, I can ensure that the library has a dedicated science section with some cool experiments on electricity, magnetism, volcanoes (my sons favorite!), bugs and biology. 500pounds can really go a long way in equipping the library and making science accessible and fun for the community.

My Interview

How would you describe yourself in 3 words?

Honest, Ambitious, hard-working

What's the best thing you've ever done in your career?

Develop drugs that make a difference to patients.

What or who inspired you to follow your career?

Seeing my favorite aunt suffer from cancer motivated me to try and find a cure

What was your favourite subject at school?

Biology

What did you want to be after you left school?

Scientist

Were you ever in trouble at school?

Every day!

If you weren't doing this job, what would you choose instead?

Travel blogger!

Who is your favourite singer or band?

Maroon 5

What's your favourite food?

Paneer Tikka Masala (I am vegetarian!)

What is the most fun thing you've done?

Skydiving - scary, fun, exhilarating!

If you had 3 wishes for yourself what would they be? - be honest!

1) Cure cancer; 2) spend all day and night with my kids; 3) travel the world

Tell us a joke.

Knock knock. Who's there? Boo. Boo Who?? Boohoohoo why arent you opening the door!!
---
---