Profile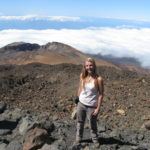 Natasha Dowey
Curriculum Vitae
Education:

Redruth School, Cornwall (GCSEs and A Levels); Aberystwyth University (BSc and MPhil), University of Liverpool (PhD)

Qualifications:

PhD in Physical Volcanology, MPhil in Volcanic Geochemistry, BSc in Environmental Earth Science (1st class Hons)

Work History:

I've worked in pubs, hotels, shops, for a newspaper company, on a farm, all types of stuff to fund my travels and my studies!

Current Job:

Lead Geoscientist

Employer:
Favourite thing to do in my job: Be outdoors!

About Me

I am a Cornish geoscientist who loves beaches, music and cake

Read more

Hi. I'm a geologist from Cornwall, with a husband who's also a geologist (with an excellent beard), a three-year-old girl (who's obsessed with spaceships and dinosaurs) and a baby (who smiles at everything, even when she's being sick on me!)

My favourite things are being by the sea, singing loudly to myself while driving, travelling to far-flung places, growing veg, eating cake, and doing SCIENCE.

I love science. Particularly the science of rocks. I always want to learn about the scenery around me, and about the landscapes on our planet. Why is it there? How did it form? What did it look like millions of years ago? What can it tell us about our present and our future?

At school, I loved volcanoes, and just kept on going with it- I did Geography at A-Level and studied Earth Science at university. I then did a Masters and a Doctorate degree in volcano geology ('volcanology')

I took a gap year during my studies and lived in Australia and New Zealand for a year, spending over 4 months in total camping in deserts and forests, and next to volcanoes.

After my time at university, I took a job at in a geological company, where I have spent five years studying landscapes all over the world, from China to Mexico!

My Work

I seek to understand the stories behind the scenery!

Read more

My career so far has been in two halves- my time as a volcanologist, and my time working in the oil and gas industry.

In both my Masters and Doctorate degrees, I studied explosive eruptions, which erupt ash rather than lava. These eruptions can be incredibly harmful to humans, animals, property and climate. During explosive eruptions, hot clouds of gas, ash and volcanic material can form currents that sweep down the mountainside, wiping out everything in their path. They are called "pyroclastic density currents". I studied the rocks they form to try to improve our knowledge of them. Day to day, the work involved a lot of time on the edges of cliff faces, taking samples, making sketches, and taking measurements of the rocks. This cartoon shows my research in volcanology- I can email it if it is too small here!

My work in industry has been really interesting- I study Earth's landscapes through time to try to understand where we may find oil and gas. My company creates reports, maps and charts that show where oil and gas may be found, and then oil companies buy them from us. Oil and gas are really important in a number of ways in society. I believe in climate change, and I would love to see more renewable energy- but oil and gas are still an important part of the mix. They provide a stable source of electricity for millions of people, they make fertilisers for crops, tarmac for roads, medicines, clothes, plastics, even makeup! I would love to see a lot less single use plastics, particularly given the current environmental concerns about microplastics in the ocean.

In my job, I use knowledge of plate tectonics (how the continents move across the planet over millions of years) and past sea level (which goes up and down as the ice caps grow and shrink through time). These things change over hundreds and millions of years, and control what rocks will form where. Some rocks are really important in the creation of oil and gas. Hopefully the cartoon will help you picture it- again, I can email if necessary!

I like the fact that alongside my research, I have time to do other things at work. I get to travel to conferences and go on a lot of fieldtrips (in 2013 I went to China on a work fieldtrip to look at some of the oldest rocks in the world!).  I also get to be a teacher to other staff – I've created lessons explaining why volcanoes are important in looking for oil and gas, as well as a fieldtrip for junior staff (fieldtrips are the best bit of geology, when we get outside and poke around at the rocks!) My company lets me do fun science festivals too! I believe very strongly in encouraging more people in geoscience, especially girls, and have recently started a science mentoring network on Twitter.

My Typical Day

Really varied- the best typical day is a day in the field

Read more

In my current role at work, I manage basin modelling. That means that I am in charge of using computers to predict where oil and gas may be found. At any time we may have 4 or 5 staff working on basin models, so I typically spend part of my day chatting to them about the area they are looking at- we may look at information about the geology of the area together (in the form of maps, or charts), or we may spend time playing with the computer model to create lots of different options. In one day I may go from talking about Thailand to Mexico to Ireland before lunch! I spend time creating my own models and writing reports for the areas I am assigned to, and I may spend time helping others with their reports. I may be preparing a presentation for a client or for a conference (where scientists go to share ideas) or I may be writing a seminar to show to my colleagues so everyone knows what I've been up to.

I don't really have a typical day, every day is different. My favourite days in my job are when I am leading staff or students on a fieldtrip. Last year I co-led a trip to Dorset for a week, and every day it was up early, walking boots on, notebook at the ready, and off to walk along beaches and cliff tops, teaching others about the scenery, what it looked like millions of years ago, and what it means for us and the future.

What I'd do with the prize money

I would donate it to the awesome 'Vigias' volcano science communication project!

Read more

I'd like to donate the prize money to a science outreach project focussing on communicating the dangers of volcanic eruptions in lesser developed countries. The money would be used to help fund the publication of a book which tells the stories of the volcano watchers (or 'vigias') of Tungurahua in Ecuador in their own words.

The project aims to share the experiences of those who have lived through volcanic eruptions, in order to spread messages of how to reduce risk and increase resilience. It is hoped that by engaging with the native people who watch over the volcano, local communities will gain knowledge of the dangers. The book will also be an outreach tool farther afield- hopefully the schools taking part in this competition would be able to get a copy when its published!

To see previous work undertaken by this project (part of the STREVA initiative run by Prof Jenni Barclay) see the "River of Rock", "Glowing Cloud and "An Eclipse" films by Lambda Films on YouTube, or read this blog by Jenni Barclay's PhD student:

My Interview

How would you describe yourself in 3 words?

Positive, loud, passionate!

What's the best thing you've ever done in your career?

I travelled to Greece to map the volcanic island of Santorini in my final year of uni. It was life changing- made me realise how much I loved geology.

What or who inspired you to follow your career?

My mum, who was the first person in our family to get a science degree

What was your favourite subject at school?

Physical Geography

What did you want to be after you left school?

I had NO idea. All I knew was that I loved volcanoes.

Were you ever in trouble at school?

Only for talking too much!

If you weren't doing this job, what would you choose instead?

Singer. Or climate change modeller. Or both!

Who is your favourite singer or band?

Too many to choose! Right now I love Ben Howard

What's your favourite food?

Cake. All the cake!

What is the most fun thing you've done?

Travelled around outback Australia camping in a swag in the desert for 3 months

If you had 3 wishes for yourself what would they be? - be honest!

Health, happiness, and a house by the sea

Tell us a joke.

What did the boy volcano say to the girl volcano? I lava you!!
---
---