Profile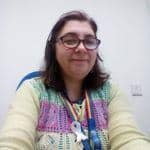 Marialuisa Crosatti
I am out of the competition but I am still here!
Curriculum Vitae
Education:

I went to a Professional high school and I obtained qualification to work as Technician in Biology or Chemistry labs; then I obtained BSc in Biological Sciences (Bio-molecular focus) at Università degli Studi di Parma (Italy); finally I obtained a PhD in Microbiology at University of Leicester

Qualifications:

PhD in Microbiology; Technicians for Biology and Chemistry laboratory

Work History:

Part-time technician at University of Leicester; Research internship at Animal Health Institute at Brescia (Italy); Research assistant at New York University (NY, USA); visiting fellow at Vanderbilt University (Nashville, TN, USA); Training internship at Ospedale S. Orsola (Bologna, Italy)

Current Job:

Technician and Technical service manager at University of Leicester

Employer:

Department of Respiratory Sciences (known as Infection, Immunity and Inflammation, previously) at University of Leicester
Favourite thing to do in my job: Grow bacteria and expose them to different type of conditions to test their ability to withstand them; make slides to see bacteria using a microscope; to organize my bench and my lab; to analyse results

About Me

I am originally from Italy but I lived in US before to come to live in Leicester to pursue opportunities to research and work with bacteria

Read more

I was born and grew up in small town in North Italy (near Lake Garda) where my original family still lives. I was the first one in my family to go to university and the only one to have obtained a PhD. I moved to Leicester in East Midlands 12 years ago and I saw the city be transformed and become a lively place to live. I enjoy visiting my friends most of whom I met during my PhD and moved away from Leicester or live in Italy. I like to travel and in particular city breaks. I am part of a knitting club and a ukulele playing club. I like to watch sports on TV (in particular winter and summer Olympics game) and go to the movies.

In the past twenty year, I relocated in different countries in order to pursue my scientific interests in bacteriology. Most of my education occurred in Italy where I was born and where I obtained a BSc in Biological Sciences and I started to work with Helicobacter pylori. This interest led me to move to US to work with Dr Blaser where I stayed for six and half years. In 2005, I relocated back to Italy for one year and half and I worked on Foot-and Mouth disease virus. Finally, I came to UK at the beginning of 2007 to pursue a PhD in Microbiology with Dr Rajakumar. While working both in US and UK, I have enjoyed interacting with people coming from cultures different than mine and discovering the uniqueness that characterize them.

My Work

I work extensively with bacteria using both classic and modern techniques. I am involved to promote working in a safe environment and to provide training to others. I am also responsible to deliver microbiology undergraduate practical and check and manage servicing equipment to make sure they are in working conditions and safe to use.

My Typical Day

Preparing media and/or growing bacteria in different conditions; organize lab; place orders; check equipment if reported as faulty; organize repairs; record and analyse results

What I'd do with the prize money

To raise the profile of technicians among the general public

Read more

I would purchase wearable video recording devices and ask technicians to record their working days. Then I would hire a consult or director to create short movies showing how technicians support research and teaching at University. Finally, I would organize a movie lunch event and then release the movies on different on online platforms and bring it to the local schools. My intent is to show both the type of work done in research labs and also to show an alternative career to become a lecture.

My Interview

How would you describe yourself in 3 words?

Reliable, organized, enthusiastic about science

What's the best thing you've ever done in your career?

To obtain my PhD while working part-time was the best (and most difficult) thing I done in my career. I learnt a lot from the process, in particular writing my theses

What or who inspired you to follow your career?

I was attracted to a profession around medicine that did not involve becoming a medical doctor but understanding the mechanisms of disease; my teachers in high school suggested a degree in Biological Sciences and from there I felt in love with microbiology

What was your favourite subject at school?

Biology

What did you want to be after you left school?

I wanted to be involved in scientific projects and research

Were you ever in trouble at school?

No, I was always a good and respectful student

If you weren't doing this job, what would you choose instead?

Photography

Who is your favourite singer or band?

Queen

What's your favourite food?

Lasagne

What is the most fun thing you've done?

Be able to live in many different parts of the World (Carpenedolo, Parma, Nashville, New York, Kuala Lumpur, Leicester) thank you to microbiology and notwithstanding humble origins

If you had 3 wishes for yourself what would they be? - be honest!

I wish I could work on my own research project; I wish for the creation of United States of Europe; I wish there could be more money for scientific and artistic projects (and less for weapons)

Tell us a joke.

A horse enters a bar and sits down on a stool. The bartender asks: "Why the long face?"
---
---